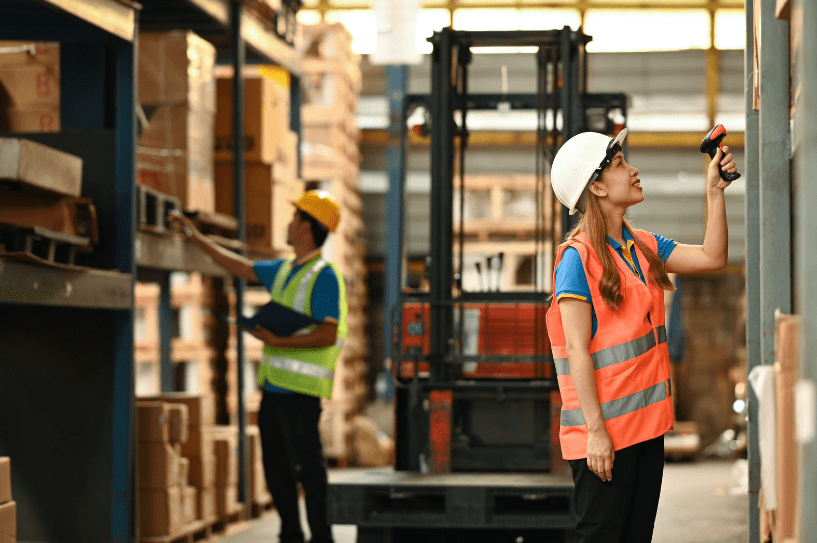 Wearable vs Handheld Barcode Scanners: Which Is Right For Your Business?
Barcode scanners are an indispensable tool in many industries and can enhance warehouse productivity and efficiency while reducing errors. Choosing the right type of scanner, however, is critical to optimise your business operations, as handheld and wearable barcode scanners offer their own advantages while being suitable for different applications and settings.
So, what is the best barcode scanner for your warehouse? To answer this question, you'll need to consider several key points which, in this article, we'll explore.

Handheld Barcode Scanners
Handheld barcode scanners are a robust and durable option, so they are well-suited for demanding applications in environments where longevity is crucial or where they may be exposed to wear and tear. Often equipped with a keypad or keyboard and on-screen displays, handheld scanners facilitate the manual input of data, so users can access Warehouse Management Systems (WMS) for faster and more efficient working. Also, many handheld scanners use the familiar Android operating system, so they are a user-friendly and easy-to-navigate solution that can be mastered with minimal training or specialist knowledge.
Handheld barcode scanners offer excellent cost-efficiency. Typically more affordable to purchase than wearable models, they often have a longer lifespan, so they are a sound investment for businesses seeking to maximise their return on investment (ROI).
Wearable Barcode Scanners
Wearable barcode scanners offer unique benefits that enhance safety and efficiency in the workplace. As staff can have both hands free while using the scanners, accidents are less likely to occur which is especially important in industries where safety is a priority or hazards have to be managed more adeptly. Employees can focus on their work without being encumbered by impractical handheld devices.
Wearable scanners can significantly improve workflow efficiency. Because users have a device at hand, they can scan items quickly and efficiently, without the need to repeatedly pick it up and put it down. While this may only seem to save seconds, the cumulative effect is powerful, with workflows operating more quickly and fluidly. Also, staff are unlikely to misplace their device because it is attached to their hand.
Another advantage of wearable scanners is their hands-free operation. Users can handle items with both hands which, in busy warehouses, can improve the speed of their work and increase productivity.
Contact Us To Find Out More
If you want to maximise the efficiency of your warehouse, contact Maxim Computer Services today. We are a trusted partner of ProGlove, a global leader in wearable barcode scanning technology that supplies more than 2,000 industrial customers worldwide.
For more information, please call us on 01543 272770 or chat to one of our experts live.
Image source: Canva